| | |
| --- | --- |
| v Who We Are | |
| | | |
| --- | --- | --- |
| B2B Marketing Consultant Business-to-Business Mission Statement Marketing Strategy Corporate Culture Increase Sales B2B Marketing | AAS Associates Marketing Consultants Marketing Strategic | Business-to-Business Marketing B2B Sales and Marketing Consultants B2B Marketing Business-to-Business Specialists Mission Statement |

Corporate Vision: We are committed to
making American industry competitive
on a global basis. We are especially
committed to US manufacturing. The
United States cannot have an economy
based on everyone selling financial
services to everyone else. We must take
raw materials out of the ground, add
value to them, and sell them competitively
in every country on the face of the earth.


Mission Statement: AAS Associates
designs and implements programs and
initiatives for its clients that increase
their sales, improve their profits and
grow their business.


"Unto whom much is given, of him
shall much be required." -Luke 12:48



A Virtual Consultancy: AAS Associates draws on a network of consultants to create a team that is specially selected and organized to best serve the needs of each client. AAS Associates enjoys long-term relationships with many of its clients. They ask us to return on a regular basis to help them update their Marketing or Business Plans, counsel them on new programs or initiatives, or just to attend their company Christmas Party.

Business Philosophy: AAS Associates may NOT be the consulting firm for you, unless you also share our value system.

n We believe that a business must first be committed to the needs of its customers, then committed to the needs of its employees. Once it's met the needs of those two constituencies, it can address the needs of the managers and principals of the enterprise. We have found, however, that once a business is customer-focused and employee-centered, the management and ownership teams do very well for themselves.

n We also believe that a business must be 100% truthful in its advertising, and it must stand behind its products and services 100%.

n We are also unapologetically patriotic. We believe that the United States of America is, indeed, a shining city on a hill, and the last, best hope for mankind. The USA is the defender of Western Democracy and Judeo-Christian principles, and as the remaining Superpower, we face unique challenges and we bear unique responsibilities.

There are businesspeople who cannot accept these standards, and we recommend that they look elsewhere for a consulting firm.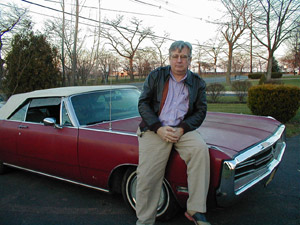 Alec Schibanoff, PMC: The founder and managing director of AAS Associates, Alec Schibanoff, holds the prestigious PMC (Professional Management Consultant) designation, as do many of the firm's associates. Alec spent 20 years in industry before launching AAS Associates in 1990. He is a sought-after speaker, a widely published author and a founding member of The Consultants Bureau, the national trade association for the consulting profession, where he has served as both Membership Director and Executive Director. He is directly involved in some aspect of every AAS Associates' consulting project.

Alec and his wife, Trish, have two children, Alexandra and Ethan. In the limited spare time he has, Alec teaches an adult bible class and collects red Chrysler convertibles (he currently owns two, a 1995 LeBaron and a 1969 300).

Marketing Programs - Web Site Design - Sales Force Development - Strategic Planning
Sales and Management Training Program - Who We Are - Free, On-Line Consultation
10 Most Common Mistakes Managers Make - Reflections on the 20th Century
Back to Home

Business to Business Marketing Sales Corporate Vision Mission Statement B2B Marketing Business-to-Business Marketing Consultant Increase Sales Improve Profits Grow Business B2B Marketing Strategy Marketing Consultants Strategic Marketing Strategy Increase Sales and Profits Marketing Strategy Grow Business-to- Business Mission Statement Corporate Culture Vision Increase Profits Grow Business Marketing Consultant B2B Marketing Consultants Marketing Programs Mission Statement Corporate Vision Corporate Culture