Effective sales literature is Bi-Level:
It can be skimmed (the headlines,
subheads and illustrations tell your story)
or it can be read in its entirety for a
thorough understanding of your products'
and services' features, applications and
benefits. The same must be true of
your web site!




Lead Generation Programs:
■ Trade Shows and Conferences
■ Direct Mail/Direct Response
■ Web Site and On-Line Directories
■ Broadcast Fax/E-mail
■ Print Advertising
■ Public Relation
■ Internet/Electronic Marketing




You will never grow your business
playing catch-up with your competitors.
Truly successful companies (we call
them Critical Mass Organizations)
leapfrog their competitors and leave
their customers breathless!




How you service and support your
customers and how easy (or difficult)
it is to do business with your company
is all part of the Customer Experience.


If you'd like to discuss how we can help you improve your marketing programs, give us a call at 888-632-7200, or contact us via
e-mail at:
marketing@aasassociates.com.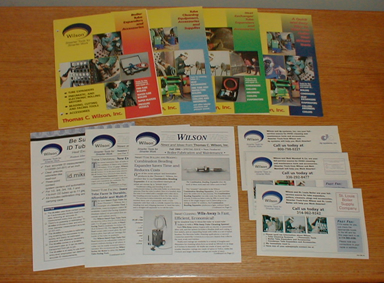 Marketing Materials: We can develop, update or improve your product sheets, catalogs, web site, direct mail pieces, newsletter, technical notes and other sales promotion items from concept and copy to layout, art work, production and printing. For clients that do not need large quantities of sales literature we set up a desktop publishing program. Some clients need sales literature that can be transmitted to customers and prospects electronically.
Grow Your Customer Base: New customers are the life-blood of any business, and we have considerable expertise and success developing programs that generate qualified prospects that your sales force can turn into new customers. Cold calling, which many salespeople are required to do, is time-consuming and inefficient. We develop Warm Calling programs that dramatically improve the efficiency, effectiveness and morale of the sales force, while reducing selling costs, shortening the selling cycle and improving profit margins.
New Product Development: Equally important to how you market your products and services are the actual products and services you take to market. Your customers are constantly changing how they do business and what they need from a vendor. Your industry's technology is continually improving. Your competitors are expanding and updating their products, and the dynamics of your industry are in constant turmoil. We help our clients continually expand, improve, update and enhance their product lines via Concentric Diversification.
Service and Support Activities: For many businesses, service is their competitive edge. In a world in which so many products have become standardized and must be compatible with each other, product differentiation is increasingly more difficult to achieve. Offering superior Customer Service is a function of establishing the right support structure and systems, having properly trained and motivated employees, and instilling a Customer Culture that empowers and rewards customer satisfaction initiatives.
New FREE Service! We will evaluate your current sales literature at no-charge or obligation. Just send us a complete set of your current sales literature, and we will critique it and make specific recommendations for improving its effectiveness. Send your sales literature package to AAS Associates, 1200 US Highway 22, Suite 2000-2068, Bridgewater, New Jersey 08807-2943